The
Audio Files
are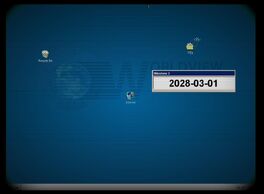 a collection of files that are downloadable via the
Desktop
within the
Anomaly
at the Interdeminsional Games (iDGi) website. To access them the user must drag the "Milestone 3" window away from its default position, in order to reveal the folder on the desktop which contains the download links. Each audio file is stored in a series of folders of which the names form a sentence, within a .zip file. In some cases additional .txt files are stored in another location of the .zip

Each audio file is scrambled and requires sound-editing software, such as Audacity, to try and decipher it. In every file, random segments of the audio are reversed, or the pitch/tempo increased/decreased, or both.
On February, 12 (real-time), file 0xx060, the voice that announces the date has changed. Along with much better quality, it is now sometimes the high-pitched and squeaky like before and sometimes a deeper, darker voice. The background noises, such as laughing, static, music, or other effects, are also much clearer and have more bass. The two regular people have not been altered.
Ordered by Date
Edit
WVI_JAN22028_WG
0xx057
0xx071
0xx072
0xx086
0xx061
0xx062
0xx068
0xx085
0xx056
0xx066
0xx076
0xx054
0xx063
0xx065
0xx081
__0xFEB5_1
__0xFEB5_2
0xx074
0xx082
0xx083
0xx04
0xx064
0xx067
0xx077
0xx084
0xx087
0xx059
0xx073
0xx092
0xx058
0xx070
0xx079
__0xFEB26_1
__0xFEB26_2
0xx053
0xx075
0xx080
0xx089
0xx090
0xx091
0xx055
0xx060
0xx069
0xx078
0xx088
97 files as of Feb. 28
Other Files
Edit
Some of the zips also contain other files. (-Sent by our dear friend Henry.)
Text files usually just add to the sentence made up by the folder names, although some have links to youtube videos or google:
Nine Inch Nails - Right Where It Belongs
Google search for once in a blue moon
Louis Amstrong - What a Wonderful World
Spaceballs-When Will Then be Now?
Everytime I Watch This I Want To Cry(American History X Scene)
There all also gifs that contain a message written in the characters (Sumarian Cuneiform) used on the Project B6 page: